Are 1st Phorm Level-1 Protein Bars Worth the Cost?
1st Phorm is a pretty large supplement company out there with a pretty large portfolio of inventory. They do everything from post workout shakes to greens, and even have their own apparel line. Naturally, they also offer protein bars.
There are a lot of cookie cutter protein bars out there. There are also a LOT of overpriced protein bars out there. Wandering through a supplement shop or the gas station, you will see what I am talking about.
But, are these Level-1 bars worth it? Or are they something you should skip? This is a 1st Phorm Level-1 Protein Bar review, so let's get started.
Key Ingredients
No review is complete without a list of ingredients to start off with. Gotta know what you are purchasing first and foremost. Flavor, texture, cost are all important, but you won't even purchase an item if you care about what you are putting in your body and the ingredient list is off.
With that said, let's take a look at the ingredient label posted on their site.
Admittedly, the ingredient list is pretty long. But, it is on par with the majority of other protein bars out there.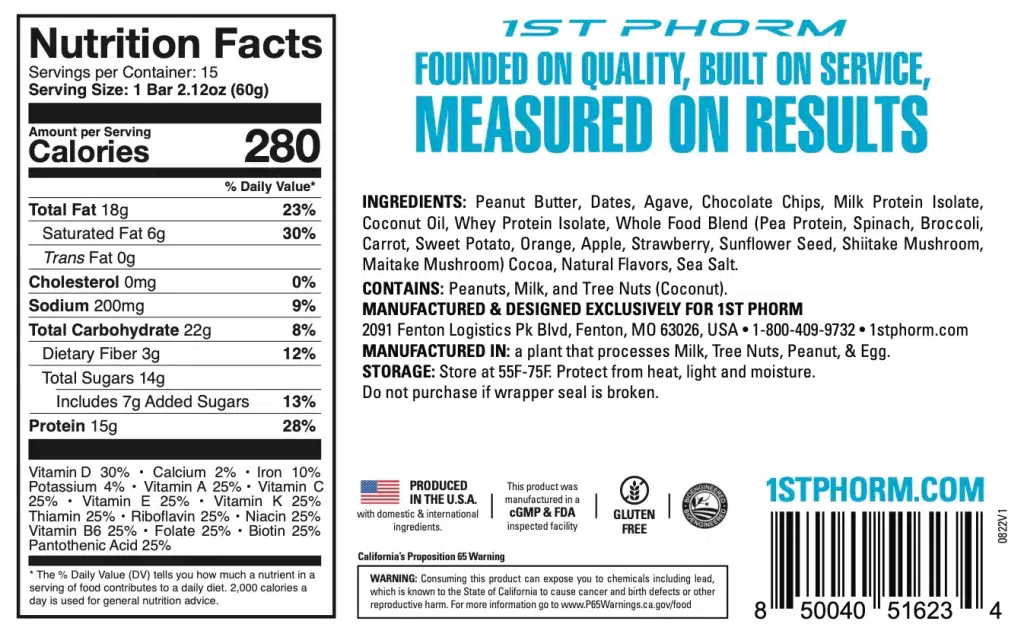 There are some seed oils in there, which might be a deal breaker for some people. Most bars products out there have them, though.
Looking at the overall nutrition label, the product is similar to many other bars.
| | |
| --- | --- |
| Total Calories | 260-270 |
| Fat | 9-13g |
| Cholesterol | 15-25mg |
| Sodium | 180-370mg |
| Carbohydrates | 19-25g |
| Fiber | 0-3g |
| Protein | 20g |
There are some higher calorie bars out there going as high as almost 600 calories. Other bars go as low as 190 calories as well, so these are nice middle of the road bars.
I do have to call out that the actual ingredients 1st Phorm uses in their products are tippy top quality as a rule. These protein bars are made with high-quality ingredients such as whey protein isolate, almond butter, and organic honey.
Each bar contains a good amount of protein making it a great option for those who want a protein rich snack, and not a 'high protein' product with 8g in it. Again, there are products out there with more, but they come with a cost usually either in the ingredients list being poorer or higher overall calories.
There are also vegan options if you prefer plant based which will run you 15g of protein.
Flavor and Texture
Flavor
1st Phorm Level-1 Bars are available in several flavors, including Chocolate Chip Cookie Dough, Mint Chocolate Chip, Peanut Butter Lovers, and others.
I have tried many protein bars in the past, but the flavor of the 1st Phorm Level-1 Protein Bars is one of the best I've had. The chocolate peanut butter flavor is rich and satisfying, without being too sweet. It tastes like a candy bar, but without the guilt.
Personally, I love the seasonal pumpkin spice and the peppermint bark. Highly recommend that if you are reading this while they are in stock to go buy them!
According to other customer reviews, the 1st Phorm Level-1 bars are generally praised for their taste and flavor. The Chocolate Chip Cookie Dough and Peanut Butter Lovers flavors are among the most popular and have received many positive reviews.
Some customers have noted that some flavors can be a bit too sweet or have a slightly artificial aftertaste, but these complaints are in the minority. Overall, people tend to be very happy with the taste and flavor of 1st Phorm Level-1 Bars, and many report that they are one of the best-tasting protein bars on the market.
Texture
From personal experience I can tell you that the texture is 'there.' Some flavors are a bit crunchier than others, but I would honestly compare these bars as a whole to a Snickers / twix / kitkat combo with a slightly bigger crunch on the outer layer for some flavors.
The bars have a dense and slightly moist texture that makes them taste more like a treat than a protein bar. The bars are not too dry or chalky like some protein bars can be, which makes them easy to chew and swallow.
People I have spoken to after buying these describe the bars as having a soft, chewy texture.
Likewise, many other reviews have also praised the texture of 1st Phorm Level-1 Bars, describing them as soft, chewy, and easy to eat.
Some people do say that the bars can be a bit sticky, which can make them difficult to remove from the packaging or eat without getting your fingers messy but I have rarely encountered this. Usually, this is a fault of my own for leaving them in the sun.
Overall, the texture of 1st Phorm Level-1 Bars is a major selling point for me.
Benefits
These bars are made with high-quality ingredients and are a great source of protein and fiber. So, because of that they are perfect for a post-workout snack or as a midday pick-me-up.
They can help get you to your protein goals without struggling, and they are incredibly convenient. Unlike protein shakes, you don't need to mix them or worry about the bottle being dirty.
If you have a few laying around, you can pack them in a to-go bag, stash some in your glove compartment, or leave at your desk for whenever you are hungry and need some quick protein.
Cost
The price of these bars is on par with other high-quality protein bars on the market. They may be slightly more expensive than some of the lower-quality bars, but the benefits and taste are definitely worth the extra cost.
You can purchase 1st Phorm Level-1 Bars directly from the 1st Phorm official website for $42 for 15 bars or $79.99 for a two-pack of 30 bars. This comes out to about $2.67 per bar if you buy the dual pack, which is pretty average for protein bars.
If you buy some Level-1 bars in a pack of two, you can choose to get two of the same flavor or two different flavors in your order.
Complaints
The only downside to these bars is that they are not widely available in stores, so I have to order them online. However, the shipping is fast and the bars are always fresh when they arrive.
Plus, if you buy the dual pack you get free shipping because you pass the free shipping threshold.
Final Thoughts
Overall, I highly recommend 1st Phorm Level-1 Protein Bars to anyone who is looking for a protein rich snack option that tastes great and provides the necessary nutrients for muscle recovery and growth. They are a bit more expensive than some other protein bars, but the quality and taste are worth the extra cost.
Let Us help You Out
At CONDITIONerd we are here to help you achieve better physical and mental health through exercise. Check out the plans we offer to our customers and see if you could benefit from working with our team. And if you have questions, you can always contact a CONDITIONerd team member. 
Personal trainers, like those found here, can help guide you on your pathway towards reaching your fitness goals, whether that is getting bigger, stronger, faster, more lean, or just generally feeling better.
We can get you setup with a periodized workout plan, supplement information, and advice on nutrition to help you reach your goals.
The only thing you need is some motivation and a willingness to change some old habits.
Get into contact with us to find out what membership is right for you. In a CONDITIONerd program, you'll be surrounded by others who can help you to get where you want to be.
Generally, our clients start to see some pretty awesome changes in 2-3 months time, some sooner.